Until the end of October 2018, the electricity company RTE is dismantling a 24-km long high-tension power line in the Camargue. It is the completion of a €70-M investment programme that lasted more than 10 years. Out of the 100 pylons to be dismantled, 20 are located on the Tour du Valat Nature Reserve: appropriate, eco-friendly dismantling methods have been used.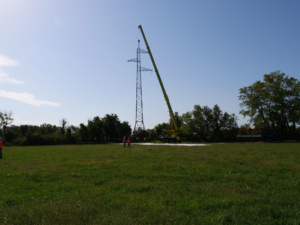 The existing 63000-volt line linking the substations of Arles and Salin de Giraud is no longer required for ensuring the area's electricity supply. As a result, RTE is currently dismantling a large section of the line. When the project comes to an end, in October, there will no longer be a single pylon in the Regional Nature Reserve.
Throughout the operation, RTE worked in close collaboration with the Nature Reserve teams. Case-by-case, a specific methodology has been used for the pylons situated in highly environmentally sensitive areas. For example, sheets of aluminium were laid down to protect ground surfaces from heavy machinery. The worksite was prepared and monitored by ecologists. Protected species were identified and tagged in advance. The extremely rich birdlife of the Camargue Regional Natural Park will benefit considerably from this development. In the Tour du Valat Regional Nature Reserve alone, 318 bird species have been spotted, including Common Crane, Greylag Goose, and eagle species.
The eco-worksite methodology set up by RTE also optimised waste management. RTE made good use of all the waste produced by the dismantling operation: almost 350 tonnes of pylons and 70 tonnes of cables were sent to the Arcelor Mittal steelworks in nearby Fos for recycling.
This dismantlement is the completion of a major electricity supply coverage programme started in 2010. To assist the economic development of the Arles and Tarascon urban areas and support the rise in renewable electricity production, RTE invested nearly 70 million euros to increase the area's electricity supply. 50 million euros were allocated to the creation of a new substation in Graveson and new underground cables to Arles and Tarascon, and 20 million to laying an underground cable between Darse and Salin de Giraud.