Testing and implementing the solutions of the future for a sustainable world, developing concrete, operational responses that are appropriate to the Mediterranean context, and disseminating them effectively at the Tour du Valat and beyond. These are the guiding principles behind the Tour du Valat's eco-responsible approach, which is being developed in several areas:
We are restoring the energy infrastructure of our premises to increase our use of renewable energies and process our waste more effectively.
We are adapting new modes of transport to decrease our ecological footprint.
We have an agro-ecological approach to farming.
We are changing our ways of consuming, and our behaviour.
Today, eco-responsibility at the Tour du Valat means that:
Waste
100% of our wastewater is treated by our reed bed water treatment plant.
100% of our waste is sorted, and the fermentable waste is either composted on site or recycled by specialised waste management organisations.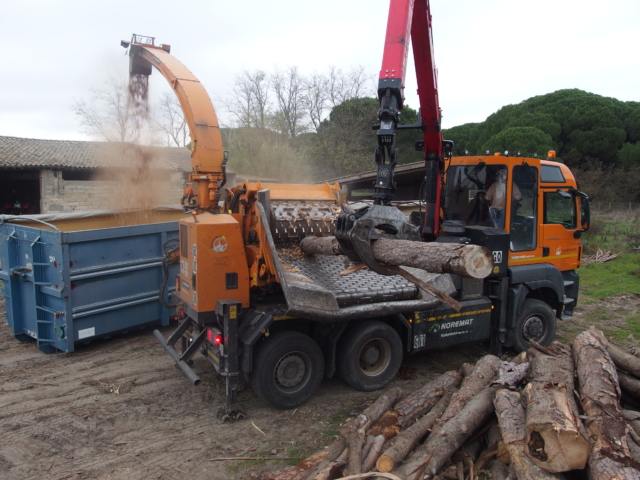 Energies
The energy consumption of our buildings has been halved thanks to the renovation work to insulate them with rice straw and cellulose wadding, and to the replacement of some of the windows by more efficient double-glazed units;
Our CO2 emissions have been divided by six thanks to our wood-fired heating system – with some wood produced at the Tour du Valat – and the installation of a 160 kW multi-fuel biomass boiler (that replaced five oil/natural gas boilers totalling 580 kW). The new unit is linked to a 590-meter heating network and seven substations at the entrance of each building.
Transport
Commutes between home and work are optimised through car-sharing, and a financial incentive is given to favour the use of public transport. A minibus has also been purchased for the journey between the Tour du Valat and the closest bus stop;
Our car fleet is currently being renewed. We are decreasing the number of vehicles and purchasing vehicles of the same type, which consume less fuel and cost less in terms of maintenance. Charging stations were also installed in 2016 for employees who drive an electric vehicle and for the electric service vehicles the Tour du Valat is considering buying;
The use of clean vehicles is being encouraged on the Tour du Valat Estate by purchasing electric service vehicles, and electric bicycles and mountain bikes;
National and international trips have been cut back through the use of tele and video-conferencing, and we encourage low-ecological-footprint, less expensive means of transport.
Production and consumption
Our herd of 350 organically-farmed Camargue cattle has grazed on the open range with no additional feed or anti-parasite treatment for 11 years. Their high-quality meat is commercialised through direct sales to consumers (Tour du Valat employees and in local distribution networks).
At the Petit Saint-Jean Estate, we are developing an innovative agro-ecology pilot project. It aims to optimise the synergies between agricultural and natural habitats while limiting water consumption, farming inputs, and fossil fuels, while testing crops adapted to the effects of climate change;
Our canteen serves locally produced, seasonal, organic food, which is purchased directly from producers and within solidarity-based economic networks. As agreed upon with Tour du Valat employees, it regularly serves vegetarian meals, forbids the use of species whose stocks are depleted, and limits the amount of waste produced, which is composted or recycled.
Finally, several times a year, the Tour du Valat works council organises bulk purchases of cleaning products, Camargue rice, olive oil, and citrus fruit, which are all organic.
The Tour du Valat's eco-responsible approach is set to improve continuously and progressively for the points mentioned above and in new areas. It is already the subject of fruitful discussion with our employees, who are often both those who make the requests and the first people concerned by their implementation.