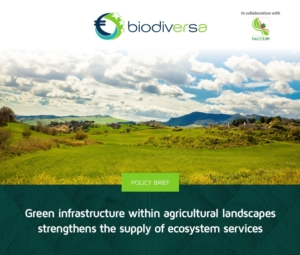 A policy brief co-drafted by the Tour du Valat has just been published within the framework of the European Biodiversa project, which aims to transfer the findings of scientific research into concrete policies.
It confirms the importance of green infrastructure (GI) in the agricultural systems in Europe, and makes recommendations that favour their development.
GI is a network of natural and semi-natural areas, combined with high-density hedges and/or grassy strips along the edges of fields.
When integrated into agricultural systems, they make it possible to maximise both sustainability and productivity, by conserving biodiversity and the ecosystem services connected with it.
This is particularly true of pollinating insects, whose significantly greater numbers in green infrastructure contribute a great deal to more plentiful harvests. Because of the presence and diversity of their predators in GI, pest management in crop areas can also be greatly facilitated and at a lower cost.
These findings stem from the research conducted in the framework of various European projects on the relationships between biodiversity, ecosystem services, and agricultural systems. The Tour du Valat participated in this work between 2011 and 2015 within the scope of the Farmland project, for which it conducted biodiversity monitoring on several farms in the Camargue.
They are very timely since they come just as the Intergovernmental Panel on Climate Change (IPCC) published its special report on the links between agriculture, food, and the climate on August 8, 2019. In a context marked by accelerating global warming and a biodiversity crisis, the IPCC report shows that in order to ensure food security we must rapidly reform the worldwide intensive agricultural production system.
The Tour du Valat is interested in agricultural production systems, particularly in terms of their influence on the evolution of biodiversity and wetlands in the Camargue and around the Mediterranean Basin.
A doctoral thesis is currently being written on this subject thanks to the generous support of Alpina Savoie. It will enable us to better understand which green infrastructure is the most appropriate for the agricultural systems in the Camargue.
Experimentations linked to this conservation agriculture are fundamental activities in the Petit Saint-Jean project we are developing in the Camargue (Gard).
Find out more:
See the policy brief Green infrastructure within agricultural landscapes strengthens the supply of ecosystem services
Bibliographical reference:

Sirami C., Gross N., Baillod A.B., Bertrand C., Carrié R., Hass A., Henckel L., Miguet P., Vuillot C., Alignier A., Girard J., Batáry P., Clough Y., Violle C., Giralt D., Bota G., Badenhausser I., Lefebvre G., Gauffre B., Vialatte A., Calatayud F., Gil-Tena A., Tischendorf L., Mitchell S., Lindsay K., Georges R., Hilaire S., Recasens J., Solé-Senan X.O., Robleño I., Bosch J., Barrientos J.A., Ricarte A., Marcos-Garcia M.Á., Miñano J., Mathevet R., Gibon A., Baudry J., Balent G., Poulin B., Burel F., Tscharntke T., Bretagnolle V., Siriwardena G., Ouin A., Brotons L., Martin J.-L., Fahrig L. 2019. Increasing crop heterogeneity enhances multitrophic diversity across agricultural regions. Proceedings of the National Academy of Sciences:201906419. doi: 10.1073/pnas.1906419116