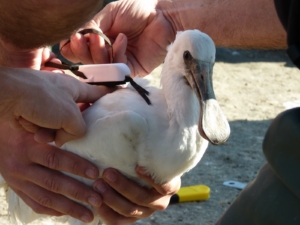 The Eurasian Spoonbill is a species that has several migratory strategies according to the particular individuals. For example, the Camargue population, located in Southern France, takes two migratory routes: an Atlantic route, with wintering sites in Spain, Mauritania or Senegal, a Central Mediterranean route with wintering sites in Italy or Tunisia, while approximately 200 individuals winter in Camargue.
Tour du Valat and his partner Nioz in the Netherlands track spoonbills during their migration, by tagging them with GPS/GSM transmitters in order to understand the factors that shape migration routes of young spoonbills. It will help to understand how fast migratory birds can adjust their migration routes when their environment changes (more information here).
As part of this study, a 4-week old juvenile born in Camargue, named FBXX, was fitted with a GPS on 27 July 2020. He left his breeding area on the 29 of September, crossed through Spain in 5 days and went on along the coast of Morocco. On the 9th of October, the accelerometer indicated that the bird was probably dead in Mauritania, close to Nouadhibou. We asked Animal Tracker to send an alert message to help recovering the transmitter and identifying the cause of the death.
The alert was transmitted by an Environmental consultant to the biodiversity specialist of a mining company in Mauritania. The gold corporation employees went to the located place. They found that the bird was trapped in a basin of used oil! The ring and the transmitter had been recovered from the dead bird by the guards.
This is one of the very many risks that await migratory birds, especially the inexperienced young. Survival in the first year is estimated at 30%. Then, from the second year onwards, survival is around 90% (for more information). This high mortality in the first year is a fairly common characteristic of long-lived birds such as the spoonbill or flamingo.
The ring and the transmitter were recovered from the dead bird by the guards and sent back to Camargue, 3200km from Nouadhibou. The transmitter will be able to equip a new individual next season.
Contacts : Jocelyn Champagnon, researcher (e-mail)