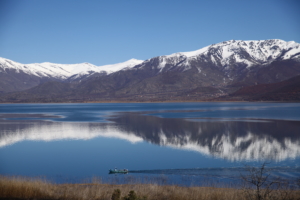 Nine years after it was signed, the agreement for the protection and sustainable development of the Prespa Transboundary Park is finally going to be concretely implemented.
Of the four partners concerned by this agreement (the European Union, Greece, North Macedonia, and Albania), only the last country had not yet ratified it.
But that page has now been turned! The agreement was officially ratified by the Albanian Ministry of Foreign Affairs, which finally opens the way for its concrete application via the creation of operational transboundary institutions stipulated in the legislative texts.
This is a crucial phase for the effective protection of Lake Prespa.
Located in the heart of the Balkans, in an isolated mountainous zone, Lake Prespa (made up of two bodies of water) is a crucial zone in terms of nature conservation and sustainable development, because of its exceptional biodiversity, featuring a high rate of endemism, and its pristine landscapes and cultural heritage value.
Find out more: Society for the Protection of Prespa