Our Petit Badon project was started in 2019 on private property in the Camargue. The Tour du Valat has been working on such projects for years to develop its expertise in ecological restoration, through innovative and ambitious undertakings that restore wetlands and associated ecosystem services (our Cassaïre, Medicyn, and Resist projects).
Landscape prior to restoration work

© H. Fontes/Tour du Valat

Landscape after 2023

© P. Rocarpin / Tour du Valat
Objectives
The project objectives are to:
Recreate a temporary marsh (14 ha) on agricultural wasteland, which is integrated into the geographical context and whose functioning is close to the Mediterranean hydrological cycle;
Restore habitats beneficial to biodiversity (flora, water birds, dragonflies and damselflies, amphibians, reptiles, chiroptera);
Study the recovery dynamics of the ecosystem and implement appropriate management measures;
Create a demonstration site for wetland restoration for educational and scientific purposes.
Diagnosis and ecological engineering
The Petit Badon site is located on a former branch of the River Rhône (the "Bras de Fer" branch), which lasted for a brief but very intense time (1587 to 1711).
Our marsh restoration project took account of this initial geomorphological context, marked by past fluvial activity. The types and orientations of forms recreated attempt to integrate this context, to approximate what the Petit Badon and adjacent properties might have looked like before levelling and farming parcels were created. However, the aim was not to reconstruct a poorly documented historical state, but rather to recreate a functional marsh ecosystem in the current context.
To achieve this goal, extensive studies of the soil, topography, hydrology, biodiversity, socio-economic activities, and history were carried out.
A 3-D design of the target ecosystem and its flooded state were modelled.
The mechanical reshaping of the land was carried out in September 2020 and several techniques were used to monitor the topographical profile before, during, and after the work to create the marsh (Differential Global Positioning System surveys, 2D/3D photogrammetry by drone).
Final topography after Petit Badon mechanical reshaping

©L.Willm/Tour du Valat

Orthophoto of the Petit Badon marsh, 21/09/2020

©L.Willm/Tour du Valat
Overview of earthworks – September 2020 (drone)

©A.Arnaud/Tour du Valat

Overview of the flooded marsh – 2021

©L.Willm/Tour du Valat
Monitoring of the ecological trajectory and adaptive management
Now that the earthworks have been completed, the first objective of this restoration project is to ensure that the hydrological functioning of the marsh created is similar to that of a natural Mediterranean temporary marsh (reference ecosystem), which is filled by the heavy autumn rainfall and dry up during the summer.
Hydrological monitoring of the Petit Badon marsh

©P.Rocarpin/Tour du Valat

The hydrological functioning of the marsh is being monitored to assess how robust our model is and implement appropriate management to maintain the desired hydrological functioning.
A study of the vegetation and wildlife prior to the restoration work and over time is also carried out to attempt to understand the restoration dynamics of this ecosystem and to implement beneficial management and restoration actions.

Monitoring vegetation on the Petit Badon marsh (quadrat)

©H. Fontes/Tour du Valat
Mechanical removal of Baccharis

© M.Lourenço /Tour du Valat

In addition, actions to manage invasive exotic species were taken prior to the restoration work and are being continued; vigilance and major efforts must be maintained in the context of restoring reference habitats in the strict sense of the term.
The presence of a herd of Camargue horses, from the former Tour du Valat ranch of wild horses, also allows us to test out grazing methods that may keep areas open, by controlling certain emerging plants such as reeds and encouraging less competitive heritage species, or aquatic vegetation which can be a food resource for certain water birds.

A herd of wild Camargue horses grazing the marshland

© L. Marchal/ Tour du Valat
In restoration, it is important to remember the need to maintain long-term monitoring to observe the ecological trajectory of an ecosystem and adjust the current management actions to ensure that the objectives are achieved.
Results
Although the success of restoration is assessed over fairly long periods (often several decades), the initial results obtained for this young marsh, on which a wide range of techniques and skills have been developed, are rather promising:
a topographically and hydrologically functional ecosystem
| | |
| --- | --- |
| Lythrum tribracteatum – 2023 © H. Fontes /Tour du Valat | a range of aquatic and heliophytic plants are already well represented, with the observation since 2022 of several hundred individuals of Lythrum tribracteatum, a protected plant characteristic of Mediterranean temporary ponds. |
the appearance of 36 species of waterbirds during monitoring carried out in 2021 and 2022, including the breeding of 13 pairs of Black-winged Stilt in 2021

Black-winged Stilt colony – 2021

©H. Fontes/Tour du Valat
This project will also enhance general knowledge of restoration ecology and improve the Tour du Valat's expertise on wetland restoration. Our institute is convinced that wetlands can only be preserved in conjunction with human activities. The ecosystem services provided by this project will help to improve how local stakeholders embrace and integrate these issues, and the site will become a demonstration area for educational and scientific purposes.
Team
Financial Partners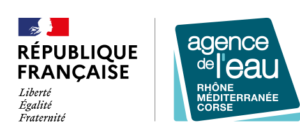 Agence de l'eau Rhône-Méditerranée-Corse