The miracle solution for controlling mosquitoes in the 1980s
The discovery of the toxicity of Bacillus thuringiensis israelensis (Bti) to mosquito larvae in 19761 rapidly revolutionized the control of these insects all around the planet. This "bioinsecticide," which is very selective and has low toxicity to non-target species, was nothing like the chemical products used until then. In fact, chemical insecticides generally have little or no selectivity. When the right dose is applied, they eliminate all insects. And since insects are very small, we can get rid of them without having "too much" effect on the
How does it work?
Bacillus are bacteria found in the soil and air. They are rod-shaped and generally found in decaying organic matter on which they feed. One particular characteristic of Bacillus thuringiensis is that they produce crystal proteins during their life cycle, commonly called crystals. When Bti is in a hostile environment (in this case, one that is too alkaline as in the case of the digestive system of mosquitoes), it produces spores and crystals. A bit like seeds in plants, spores enable bacteria to reproduce and survive in unfavourable conditions. When it is in an appropriate environment, a spore rehydrates and germinates to give birth to a rod-shaped vegetative cell. The specific toxicity of the subspecies of Bacillus thuringiensis depends on the types of crystals which act like a stomach poison. There are four different types of crystals in Bti, which explains why the mosquitoes develop resistance more slowly than when chemical products are used.2 That is a significant advantage, because chemical molecules typically become ineffective after a few years due to the growing number of resistant mosquitoes in the populations to be eradicated.
Is Bti an organic and natural product? Not really
Bti was rapidly marketed although it is not 100% effective due to the fact that it must be consumed by mosquito larvae to produce the desired effect. This method of treatment was also revolutionary, because most chemical insecticides are contact based. A few drops in a pond and all of the insects are dead! In any case, all the insects below a certain body mass. Since mosquito larvae only feed actively by filtering water for a short period during their development cycle (barely 2 days in the hottest part of the summer), it is important for Bti particles to remain accessible for consumption as long as possible. The effectiveness of Bti is thus dependent on its capacity to float or cross through aquatic vegetation, which is why it is sold in four main forms: powder, pellets, briquets, and liquid. These formulations contain Bti crystals and spores, as well as various 'inert' ingredients, such as UV protection agents, emulsifiers, anti-foaming agents, stabilizers, and phagostimulants that play no role in the insecticidal action itself. In the end, there is only 2 to 12% of Bti in the various formulations of Bti! The precise nature of these components (additives) is protected by trade secrets, and as is often true of pharmaceutical and phytosanitary products, a single firm has a monopoly on Bti manufacturing; Valent Biosciences, which has its headquarters in Illinois. In Quebec, organic farms lose their certification if they are treated with Bti!
What's wrong with Bti?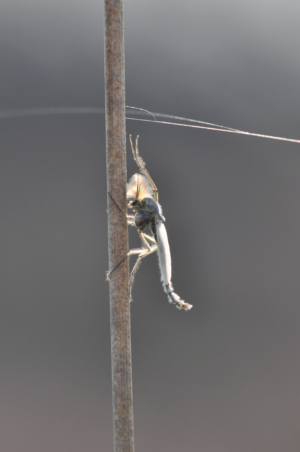 Beyond the additives, whose harmful effects on wildlife have been demonstrated in a study focusing on amphibians in Argentina,3 Bti also has the drawback of persisting in the environment and also being toxic to other species of diptera such as chironomids, close cousins of mosquitoes.4 These species don't bite people, but play a significant role in the functioning of freshwater ecosystems. The chironomid larvae, commonly known as "mud worms," help filter the water, contribute to the mineralization of sedimented organic matter and are key elements in a significant food chain. By feeding on bacteria and building tubes at the water-sediment interface, these small red worms play a fundamental role in the bioturbation of sediments from which they extract significant amounts of ammonium and phosphates. They contribute indirectly to reducing greenhouse gases by consuming organic matter favourable to methanogenesis (methane produced by anaerobic bacteria). Chironomids are very abundant and a significant source of food for many aquatic and terrestrial animals such as dragonflies, predaceous diving beetles, amphibians, fish, shrews, spiders, birds, and bats. In spite of the additives, Bti spores and toxins inevitably end up on the bottom of marshes where they have a particularly strong impact on the chironomids that feed there. While the Bti is still present and toxic, it can no longer be consumed by mosquito larvae, which feed in open water, so Bti must be sprayed again.  The concentrations of spores found in some marshes in the Camargue (up to 8.5 million per gram of soil) several months after the spraying, suggest that there is not only persistence but also proliferation of Bti following its sporulation in the digestive systems of Bti-sensitive insects like chironomids.
Significant indirect effects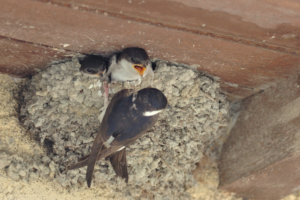 Those who defend Bti argue that the reduction in mosquitoes (and chironomids) only has a small impact on the wildlife that feed on them, because there are alternative sources of food. However, this alternative prey is not optimal and during a period of high energy requirements, that can make all the difference. Our study on House Martins in the Camargue is a good example of this. Mosquitoes and chironomids are very abundant and easy to digest, so they are systematically given to young nestlings, which must ingest 10 to 20% of their weight in small insects every day to achieve their growth. For the colonies surrounded by marshes treated with Bti, this prey is partly replaced by flying ants.5 But ants, contrary to the small diptera are hard-bodied insects that cannot be digested by nestlings the first days after they hatch. As a result, whole ants are found in the faeces and one out of three nestlings dies of starvation.6 A few days later, when the chicks' assimilation capacities are better, dragonflies and spiders come to be lacking, because they are also less abundant, because they prey on mosquitoes and chironomids7 just as martins do. Therefore, although the direct effects of Bti are mainly limited to mosquitoes and chironomids, the position of these insects at the base of the food chain (or food web) leads to a domino effect likely to have an impact on a large number of animal species all the way to the top of the chain.8
Scientific literature is biased because of the links between corporations and research
In several European countries, the organisation in charge of mosquito control is required to demonstrate that such action has no impact on the environment. Many of the papers in the literature on this subject were written or funded by those who benefit from the application of Bti. The authors of these articles, considered to be experts on the subject, are systematically asked by the editors of scientific journals to evaluate the relevance and the quality of the new studies submitted for publication. The rare studies conducted by independent organisations that conclude that Bti has a negative impact on the environment, are either rejected after being critiqued by these experts, or denigrated and called into question in "counter-studies" subsequently published by these same experts. This process, which is uncommon in the scientific community, reveals a lack of objectivity and neutrality, two qualities that are fundamental in scientific research. To be valid, two studies must not necessarily arrive at the same conclusion, just as two studies that arrive at opposite conclusions do not invalidate each other. In fact, each study must be evaluated individually, on the basis of criteria such as the relevance of the question posited, how valid the conceptual design of the study is for answering this question, the appropriateness of the statistical tools used for analysing the data and the sound interpretation of results, which must correspond well with the data and be based on solid arguments. Many studies with non-significant results cheerfully conclude that Bti has no impact. Yet, if we interpret the statistics correctly, the lack of significant results only signifies that we can't be 95% (or more) sure that Bti has an impact. The large number of confounding factors, such as individual or climatic variability, which can affect samples when studying animal populations in their natural habitat often makes it difficult to arrive at such a level of certainty.
Bti: Use it moderately!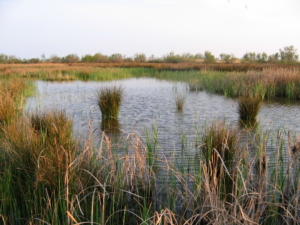 After having successfully replaced chemical insecticides for mosquito larvae control, Bti gained ground and started being used increasingly in natural habitats previously free of mosquito control. Is this the result of our growing disconnection from nature in which everything that does not appear to be useful to us must be eradicated? Is it the consequence of a rapidly developing industry aiming to win over new followers by shouting loud and clear that eliminating mosquitoes has no environmental consequences, so why not simply do it?  It will have taken several years since the first Tour du Valat publications on the indirect impacts of Bti in the Camargue9 to witness collective widespread awareness by scientists, as well as politicians and civil society. For the first time ever, in April an article written by independent European researchers was published that reviews the environmental and socio-economic impacts of Bti. A few weeks later, a 40-minute report broadcast on Canadian television questioned the innocuity of Bti, while drawing attention to the close links between the Bti industry and the studies according to which Bti has no impact. Bti is of course preferable to the chemical insecticides. Nevertheless, in places where biodiversity conservation is a priority, it is our duty to imagine alternatives that are even more respectful of the environment.6
Find out more
Brühl C.A., Després L., Frör O., Patil C.D., Poulin B, Tetreau G., Allgeier S. 2020. Environmental and socioeconomic effects of mosquito control in Europe using the biocide Bacillus thuringiensis subsp. israelensis (Bti). Science of the Total Environment 724, 1 July 2020, 137800. https://doi.org/10.1016/j.scitotenv.2020.137800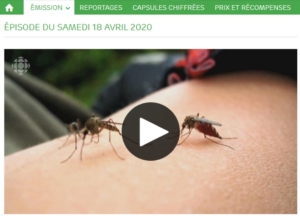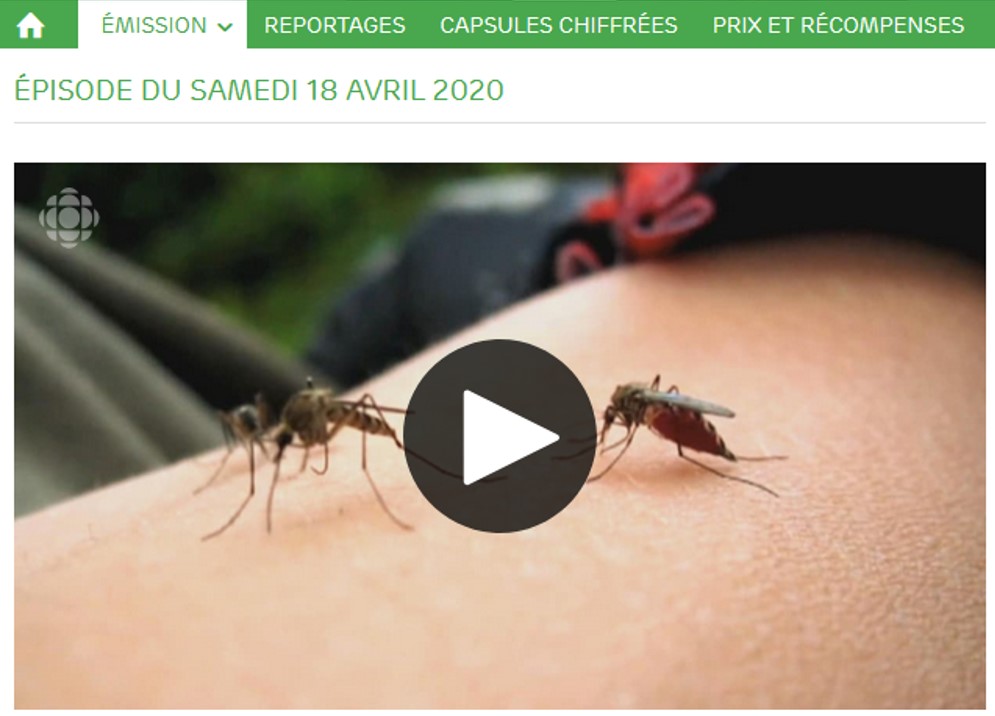 Report « La semaine verte » ('Green week') broadcast by Radio-Canada, 18/04/20. A Radio- Canada production, with the journalist Maxime Poiré, and directed by Pier Gagné.
Contact :  Brigitte Poulin, Head of Ecosystem Department (email)
References
1 Goldberg, L. J., and Margalit, J. 1977. A bacterial spore demonstrating rapid larvicidal activity against Anopheles sergentii, Uranotaenia unguiculata, Culex univitattus, Aedes aegypti, and Culex pipiens. Mosq. News 37: 355–358.
2 Tetreau, G. 2012. Devenir du bioinsecticide Bti dans l'environnement et impact sur le développement de résistances chez le moustique. Sciences agricoles. Université de Grenoble, tel-00813611v2.
3 Lajmanovich, R.C. Junges, C.M. Cabagna-Zenklusen, M.C. Attademo, A.M. Peltzer, P.M. Maglianese, M. et al. 2015. Toxicity of Bacillus thuringiensis var. israelensis in aqueous suspension on the South American common frog Leptodactylus latrans (Anura: Leptodactylidae) tadpoles. Environ. Res., 136 : 205-212
4 Allgeier, S. Kastel, A. Bruhl. C.A. 2019. Adverse effects of mosquito control using Bacillus thuringiensis var. israelensis: reduced chironomid abundances in mesocosm, semi-field and field studies. Ecotoxicol. Environ. Saf., 169 : 786-796.
5 Poulin B., Lefebvre G. & Paz L. 2010. Red flag for green spray: adverse trophic effects of Bti on breeding birds. Journal of Applied Ecology 47: 884–889
6 Poulin B, Lefebvre G, Muranyi-Kovacs C, Hilaire S. 2017 Mosquito traps: An innovative, environmentally friendly technique to control mosquitoes. International Journal of Environmental Research & Public Health 14(3): 313; DOI:10.3390/ijerph14030313
7 Jakob C. & Poulin B. 2016. Indirect effects of mosquito control using Bti on dragonflies and damselflies (Odonata) in the Camargue. Insect Conservation and Diversity 9: 161–169.
8 Armitage P.D. 1995 Chironomidae as food. In: Armitage P.D., Cranston P.S., Pinder L.C.V. (eds) The Chironomidae. Springer, Dordrecht.
9 Poulin, B. 2012. Indirect effects of bioinsecticides on the nontarget fauna: The Camargue experiment calls for future research. Acta Oecologica 44 28-32.