On January 26, Columba Martinez-Espinosa, research engineer at the Tour du Valat, gave a testimony at the conference "Feedback on the COP15" organized by the NaturCom Chair of the University of Montpellier Foundation, the Student Naturalist Group of the University of Montpellier and the University of Montpellier.
Columba attended the COP15 in Montreal from December 5 to 12, 2022 as part of the Global Youth Biodiversity Network (GYBN) and met two doctoral students from the University of Montpellier who invited her to join them for a discussion in front of about 50 people. The questions were numerous and the discussion with the public very interesting.
---
COP15 ?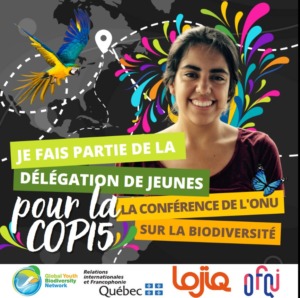 This is the 15th Conference of the Parties to the Convention on Biological Diversity. This year, it took place in Montreal and gathered about 195 countries as well as many actors invested in the preservation of biodiversity. Among them, the international network Global Youth Biodiversity Network (GYBN) gathering several delegations of young people coming from the 4 corners of the world to fight against the collapse of biodiversity. Columba Martinez-Espinosa had been selected within the French-speaking youth delegation of the GYBN.