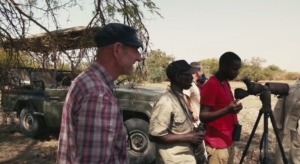 In the framework of capacity building activities within the scope of the RESSOURCE project (watch video), the AEWA Technical Support Unit, made up of Tour du Valat and ONCFS (French National Hunting and Wildlife Office) staff, travelled to Chad in early 2019 where it visited the Zakouma National Park.
It carried out a training mission there on how to identify and count waterbirds for the local administrative staff in charge of wildlife management and protection around the Ramsar wetlands 'Plaines d'inondations des Bahr Aouk et Salamat' (find out more).
This complex of floodplains is one of the largest Ramsar sites in the world. It is an important area for a large number of migratory bird species that winter there on their way between Africa and Europe.
A look back at this mission in images, featuring those who participated, and its results!