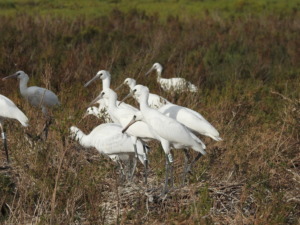 You are already 1,820 volunteers who have joined the Where is Spoony? program. You have allowed us to reach 47% of the project thanks to 109,138 classifications made, a big thank you!
For those of you who haven't tried it yet, you can find all the information in our previous news or on the dedicated website.
By going on this site, you can help us to identify the Eurasian spoonbills (Platalea leurocodia) on photos by reading the rings. We will then be able to understand how these birds cope with the long migration routes they undertake each year.
In the meantime, here is the latest news from the colony:
170 spoonbills have been ringed;
86 individuals have been measured;
5 spoonbills have been equipped with GPS tags;
30 birds can be compared to those of a colony in Portugal (physical condition, breeding and hatching success…).
Taking measurements on an Eurasian spoonbill

© Hugo Ferreira / Tour du Valat

Measurements on Eurasian spoonbill eggs

© Hugo Ferreira / Tour du Valat

Eurasian spoonbill ringed and equipped with a GPS tag

© Hugo Ferreira / Tour du Valat