Members of the European H2020 project REST-COAST participated in the kick-off meeting that took place from November 2 to 5, 2021 in Barcelona. The Tour du Valat is a partner in this project which aims to restore coastal ecosystems by reconnecting rivers to the sea.

REST-COAST, a Green Deal project of the EU (Horizon 2020 under grant agreement 101037097), proposes a systemic approach to upscale coastal restoration, which will facilitate replicating large scale restoration and introducing coastal ecosystem services into national and international policies.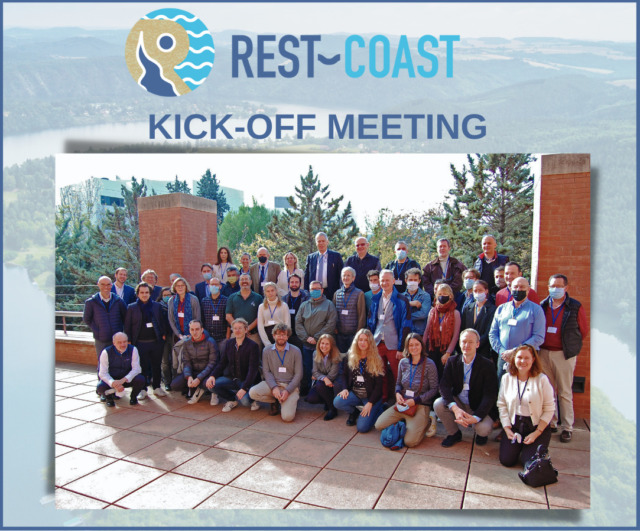 Dr. Carles Ibañez, from the Climatic Resilience Centre of Eurecat explains, "REST-COAST is a good example of the type of applied research and innovation we need to face the climate emergency through large-scale restoration of coastal ecosystems in order to both adapt and mitigate. My experience at COP26 tells me that is urgent to scale-up nature-based solutions all over the planet".
Aligned with such statements Professor Sanchez-Arcilla, from the Maritime Engineering Lab of BarcelonaTech/UPC and project coordinator stresses that "unless we decarbonise coastal protection and introduce the exceptional coastal blue Carbon potential of coastal ecosystems, it will be hard to simultaneously advance in coastal protection and climate mitigation". Professor Sanchez-Arcilla expects that REST-COAST contributions "will demonstrate how coastal adaptation can be carried out with a controlled carbon footprint and cost, although it will require early action and investments based on coastal optimism".
Goals of the project
REST COAST will demonstrate to what extent upscaled coastal restoration can provide a low-carbon adaptation, reducing risks and providing gains in biodiversity for vulnerable coastal ecosystems, such as wetlands, dunes or sea grass beds. By overcoming present technical, economic, governance and social barriers to restoration upscaling, REST COAST will develop river-coast connectivity and increase the nearshore accommodation space for the resilient delivery of coastal ecosystem services. The main selected ecosystem services (risk reduction, environmental quality and fish provisioning) address urgent coastal deficits such as the combined erosion and flooding during recent storms or the accelerating coastal habitat degradation that seriously affects fisheries and aquaculture. By enhancing these ecosystem services under present and future climates at 9 Pilots that represent vulnerability hotspots for the main EU regional seas (Baltic, Black, North Atlantic and Mediterranean) REST-COAST shall increase the commitment of citizens, stakeholders and policy makers towards a long-term maintenance of coastal restoration. Such commitment will go together with a transformation of governance and financial structures, supported by evidence-based results on shared benefits across scales and social groups. These benefits go associated to multifunctional restoration that enhances the resilience of coastal societies and assets under climate change. Such a transformation will build upon the results from hands-on restoration at the project Pilots, steered by the multidisciplinary project advances in techniques, finance and governance. Combining new technical solutions and innovative financial arrangements, REST-COAST will enable a tangible risk reduction for coastal zones, demonstrated by homogeneous metrics for ecosystem services and biodiversity.
To follow the project https://www.rest-coast.eu, on twitter : @RESTCOAST_H2020 and on Facebook : https://www.facebook.com/RESTCOAST.H2020
Project manager at Tour du Valat : Olivier Boutron, e-mail, research scientist and head of the theme Wetland Dynamics and Water Management.