The key challenge RIVOC takes up the biodiversity and vectors summer school initiated by KIM RIVE, University of Montpellier. This year, the "Biodiversity & Vectors" summer school will be held at the Tour du Valat from 19 to 22 September 2023.
Objectives of the Biodiversity & Vectors summer school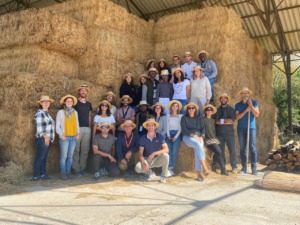 The link between biodiversity loss and the emergence of diseases is often highlighted, but the role of vectors as a component of biodiversity, the impact of vector control on biodiversity, and the effects of biodiversity on vectors and vector-borne diseases remain relatively unexplored. These are the questions that will be addressed during this summer school, which will combine workshops on reflection, methodology and fieldwork.
Using different models (mosquitoes, ticks, molluscs, aphids, psyllids, etc.), this summer school will take a cross-disciplinary look at vector-borne diseases that affect humans, animals and plants.
---
You can download the call for entries and the provisional programme for the days (both in French).
---
Target audience
The participation of doctoral students or post-doctoral students will be privileged, but the event is open to any researcher, engineer or professional working in connection with the theme.
The call is open to international students, no geographical restrictions apply but the summer school will be held in French, with some exceptions. Be careful to meet the requirements for entry into France (Visa), very early. KIM RIVE can provide a letter of invitation.
A request for funding to travel to Montpellier can be considered for non-local candidates. If you wish to benefit from such assistance, please justify your request in a few lines by explaining the adequacy/relevance of your work/sector of activity with the summer school program.
Applicants must commit to attending the entire summer school.
Accommodation, transportation and catering
The costs of accommodation, food and transport (trips from Montpellier to the place of accommodation to La Tour du Valat) will be financed by key challenge RIVOC.
Participants will be accommodated in bungalows at the Bois Flottés campsite, in the heart of the Camargue.
Transportation costs to Montpellier are not covered.
To apply
Interested candidates should complete the application form (link in the call for applications) and send their CV and a covering letter to [email protected].
The organising committee will select 20 participants on the basis of the relevance of the application to the objectives of the summer school theme and the diversity of the participants.
The call will close at midnight on 25 June 2023 and the results of the selection process will be announced on 7 July 2023.