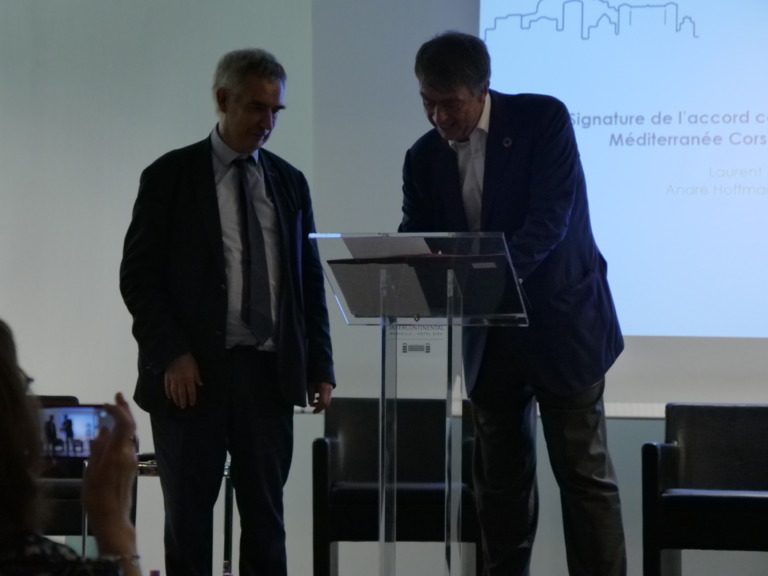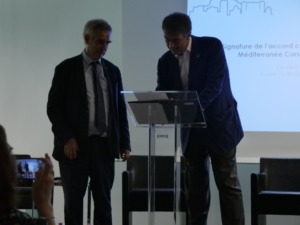 On September 8 in Marseille, during the "Mobilising for Wetlands" evening in the margins of the IUCN World Nature Conservation Congress, Laurent Roy, Director General of the Rhone Mediterranean Corsica Water Agency and André Hoffmann, President of the Tour du Valat, officially signed the scientific and technical framework agreement on Mediterranean wetlands for the 2019-2024 period.
The Rhone Mediterranean Corsica Water Agency and the Tour du Valat Foundation recognise the particular status of Mediterranean wetlands and lagoons, and their irreplaceable position as transition areas between land and water. These remarkable natural environments carry out crucial and unique functions that support the healthy status of water bodies and in particular the physical-biogeochemical as well as hydrological-hydraulic functions.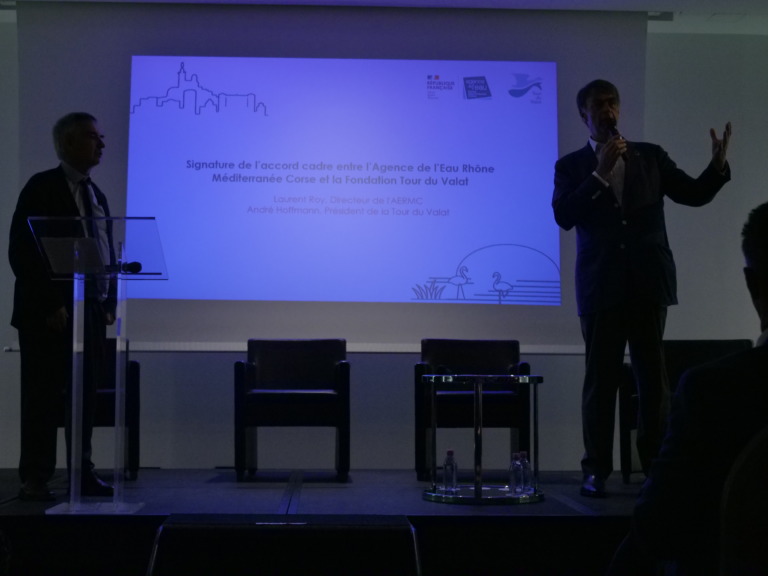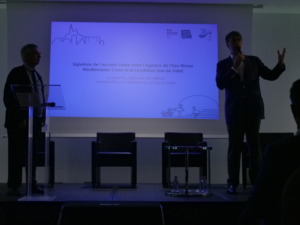 Convinced of the urgency and the interest in taking action to preserve these wetlands, the Rhone Mediterranean Corsica Water Agency and the Tour du Valat are jointly committed through this framework agreement to continue to develop joint actions for the acquisition of knowledge, for the restoration and for the innovative management targeted at Mediterranean wetlands and lagoons in order to achieve the good status fixed by the Water Framework Directive.
In addition, the two partners will aim to promote the restoration or the preservation of the proper functioning of these environments and their resilient and sustainable management among local stakeholders, and to accompany them to better understand the strategic importance of wetlands, especially in the context of climate change, the rising of sea levels and coastal erosion.
Given the priorities and the objectives that the Agency has set itself as part of its 11th intervention programme (2019-2024) for the preservation and the restoration of lagoons and wetlands, the objectives of the Tour du Valat to better comprehend and manage wetlands as well as the willpower of the two partners to strongly contribute to a better understanding of these environments, the Agency and the Tour du Valat retain the following priority objectives in the framework agreement:
Improve the knowledge of how Mediterranean wetlands function and the services they provide, in order to better define their status and their vulnerabilities to climate change. To propose prospective and strategic methods to contribute to achieving the SDAGE objectives.
Monitor the oligo-meso-haline lagoons to improve the knowledge of their state, of how they function and to be able to ensure that these water bodies are in a healthy state.
Promote and enhance adaptive and innovative management as well as the restoration of these wetlands, particularly in the context of climate change.