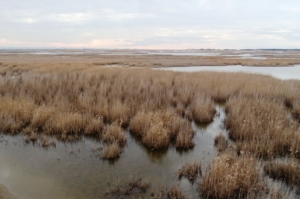 Just as the Albanian government is preparing to re-assess its legislation on the protection of its national natural areas, 25 non-governmental organisations (NGOs) including the Tour du Valat, all members of the Mediterranean Wetlands Alliance, have written a letter to the government to express their deep concern (see the letter).
The NGOs are particularly concerned about the future of coastal Albanian wetlands, because their area might be reduced and quality degraded due to this revision of legislation and the more lenient protection regulations that might result from it.
The Divjakë-Karavasta National Park, as well as the Buna River–Velipoja and Vjosa–Narta protected landscapes are all concerned, and the latter are currently threatened by airport and photovoltaic farm projects, as well as by fish-farming and intensive agriculture as well as by mass tourism. A similar action had already been carried out by the Alliance in Albania concerning some of these regions.
The NGOs remind the government that in Albania, as throughout the Mediterranean Basin, coastal wetlands are of crucial importance for overall biodiversity, because they are refuges for millions of migratory waterbirds as they travel between Europe and Africa. They are also part of European natural heritage and are an excellent asset for Albania in terms of sustainable development, due to the resources and services they provide populations.
The NGOs in the Mediterranean Wetlands Alliance request that the Albanian government reconsider the criteria for revising the national policy for the protection of natural areas (see below the letter sent to the Albanian government on 25/11/2019). They argue that the projects that would decrease the size of these natural areas should be cancelled, and on the contrary the funding should be increased for their protection and so that the current laws will be better enforced.
The Mediterranean Wetlands Alliance was established in January 2017, and today has 25 members from throughout the Mediterranean Basin, all working to protect these ecosystems that are crucial for biodiversity and human populations (why do we need a Mediterranean Alliance for Wetlands?).
Contact: Maud Borie, Tour du Valat (e-mail)