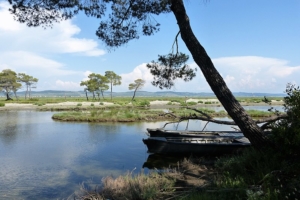 A large and unsustainable tourism development project in Albania, known as "Divjakë Resort Albania", was halted in the spring. It would have allowed the construction of a tourism resort at the core area of Divjaka-Karavasta National Park, aiming to exploit 12 kilometers of coastline and bring up to 18,000 visitors per day.
The Mediterranean Wetlands Alliance, driven by the Tour du Valat, and now an active member of MAVA's Outcome Action Plan on the protection and sustainable development of Coastal Wetland areas, has contributed to this success.
At the end of 2019, the Mediterranean Wetlands Alliance had sent a letter to the Government of Albania expressing its concerns about the reassessment of the country's legislation in terms of the protection of national natural areas (https://tourduvalat.org/en/actualites-en/protection-of-coastal-wetlands-in-albania-the-mediterranean-wetlands-alliance-lobbies-the-local-government/).
Nevertheless, other projects are underway and Albania's protected coastal areas are still under threat (https://mava-foundation.org/tourism-development-project-halted-in-albania/).
---
The activities of the Mediterranean Wetlands Alliance are funded in the framework of the project "Civil Society Organizations & Sustainable Management of Wetlands in the Mediterranean" by  the Agence Française de Développement (AFD) and the French Facility for Global Environment (FFEM).