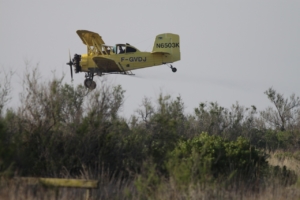 This article was published by the Environmental Evidence journal in September 2019.
The bacterium Bacillus thuringiensis serovar israelensis (Bti) is used in many countries as a biological larvicide to control dipteran insects of the suborder Nematocera, especially mosquitoes and black flies.
Bti is generally accepted to be target-specific and efficient, with low potential for development of resistance among the target species.
However, even though Bti may have minimal direct effects on non-target organisms, it might potentially be associated with knock-on effects on food webs and other ecosystem properties, including biodiversity and ecosystem functioning.
Evidence from previous research is mixed, with some finding no evidence for indirect effects on biodiversity and ecosystem-level properties, but others indicating that such effects are possible.
The fact that many studies have been conducted by organisations coordinating the control programs, and that many of those studies have been published outside peer reviewed scientific journals, highlights the challenges for decision makers and others to assess the results of the existing studies.
In this protocol we outline how we aim to systematically and transparently synthesise all available evidence in a forthcoming systematic review.
You can access it on the Tour du Valat documentary web portal (click here).
Bibliographical reference: Land M., Bundschuh M., Hopkins R.J., Poulin B., McKie B.G. 2019. What are the effects of control of mosquitoes and other nematoceran Diptera using the microbial agent Bacillus thuringiensis israelensis (Bti) on aquatic and terrestrial ecosystems? A systematic review protocol. Environmental Evidence [Internet] [cited 2019 Sep 18]; 8. doi: 10.1186/s13750-019-0175-1