Since 1995, the Tour du Valat has been conducting annual monitoring operations of nesting bird populations on its estate (2600 ha), by means of 20 min. sessions at 115 listening points. These censuses have enabled us to show that there is a diverse bird population that corresponds to the different habitats on the estate: sansouïres, marshes, Mediterranean thickets, dry grasslands, riverine forests, and cultivated areas. In 2019, the three most abundant species on the Estate were the Common Nightingale, the Melodious Warbler, and the Eurasian Skylark.
While the number of species present has changed relatively little over the past 25 years of monitoring, fluctuating between 56 and 71, which is also true of the total number of pairs (a minimum of 1,648 in 2000, and a maximum of 2,310 in 2016), a more detailed analysis of these results shows significant changes in populations.
For example, since 2000, four species have experienced very marked declines in their numbers: the Magpie (-86%), the Carrion Crow (-76%), the Eurasian Tree Sparrow (-97%), and the Western Jackdaw (-100%). Today, these species have almost completely disappeared from the Tour du Valat, whereas in 1995, several dozen individuals of each were sighted. There has also been a long-term decline in the numbers of European Turtle-dove, Common Hoopoe, and European Green Woodpecker.
Meanwhile, two species have seen their numbers increase significantly: the Melodious Warbler (+180%) and the Sardinian Warbler (+242 %). The Corn Bunting and the White Stork have become solidly established on the Estate, whereas two decades ago they were nearly absent.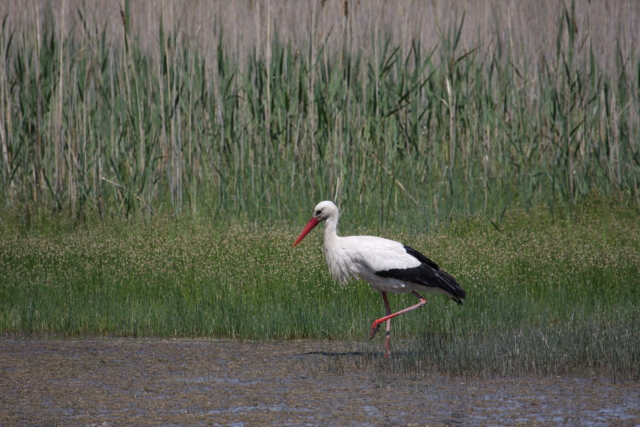 Most species, however, did not experience any significant change in their numbers, which remained stable or fluctuated a bit, but with no clear trend.
Overall, these results seem to show that the Tour du Valat Estate corresponds well to what the fluviolacustrine Camargue was prior to the major agricultural and hydrological projects that marked the delta in the 20th century. Proof of this can be seen in the large number of birds dependent on sansouïres and on grazed grasslands, as well as in the fluctuation of wetlands species in dry and rainy years.
However, due to the limited size of the Estate, it has not been possible to halt the decline of all species, particularly of the birds found in farming areas, whose numbers have dropped significantly in the Camargue, as in the rest of France, over the past several decades.
You can access the detailed results of this monitoring via the two documents below (in French).