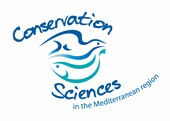 The second "Young researchers" conference on conservation sciences in the Mediterranean Region was held at the Tour du Valat (28 to 30 April). More than fifty people, mainly from North Africa and Aix-Marseille University, attended this event.
This bi-annual event aims to foster scientific exchange in the Mediterranean Basin around the theme of conservation sciences, in close collaboration with the Centre for Functional and Evolutive Ecology-CNRS in Montpellier and the IMBE (Mediterranean Institute of marine and terrestrial Biodiversity and Ecology) in Marseille. The third edition is scheduled for 2016.
Four scientists were invited to give introductory talks for the second edition: María Begoña García, from the Pyrenees ecological institute  (Spain), Arnaud Béchet, senior researcher at the Tour du Valat, François Sarrazin, professor at the Pierre and Marie Curie University (Paris 6), and Juan José Negro Balmaseda, Director of the Doñana Biological Station (Spain).
The event was based on alternating presentations inside with field visits outside. This format led to many interesting exchanges between the "senior" participants and young researchers, in an informal and friendly atmosphere in the middle of the Camargue, a key wetland for conservation issues in the Mediterranean Basin
The 2014 conference was particularly important because the Tour du Valat, which was established in 1954, was celebrating its 60th birthday. Six decades during which it contributed actively to the training of hundreds of young researchers, from all over the world, studying wetlands conservation!