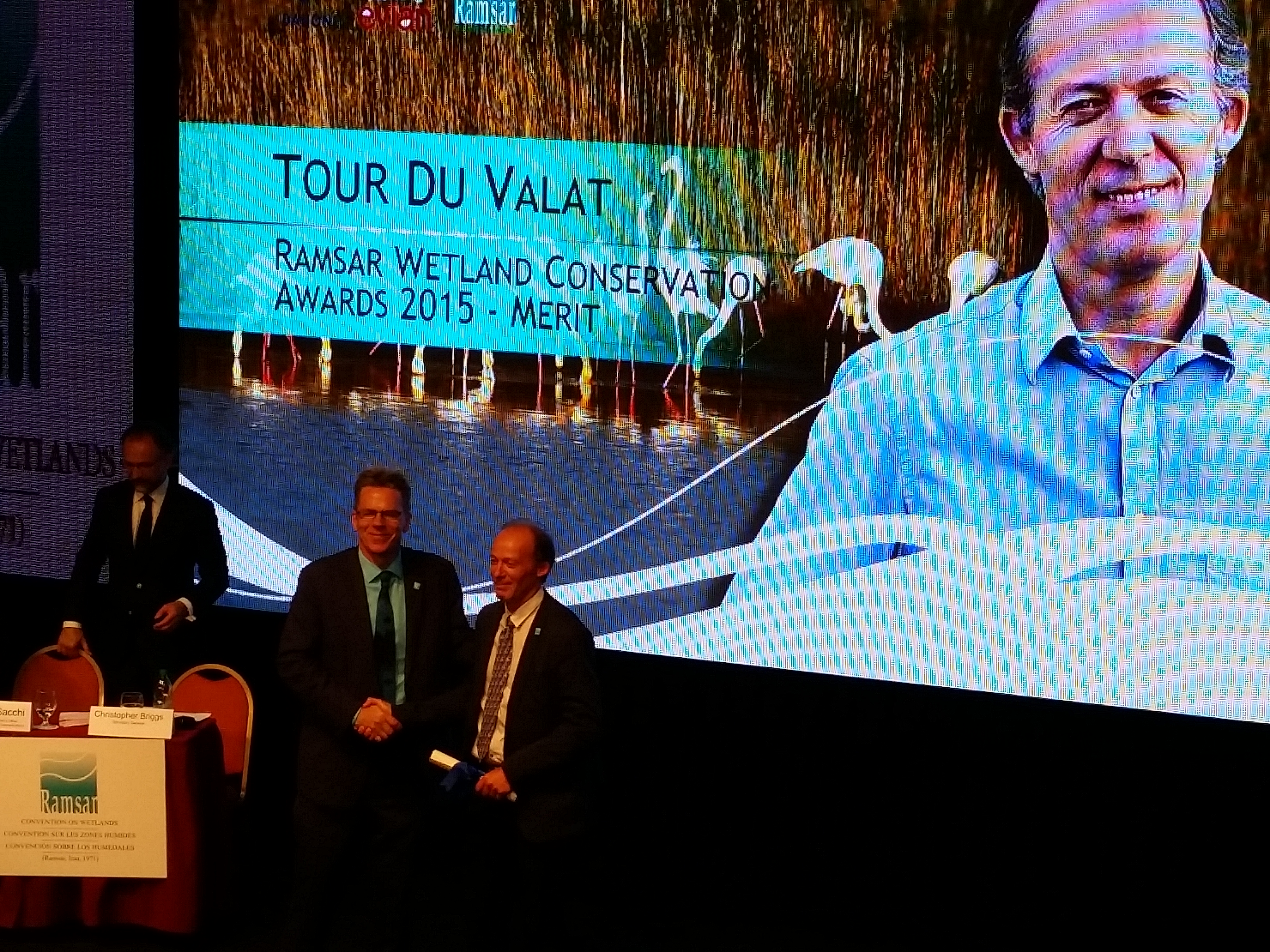 On Wednesday 3 June 2015, the Tour du Valat received the Ramsar Convention Award for Merit, at the 12th Conference of the Contracting Parties to the Ramsar Convention in Punta del Este (Uruguay).
The Ramsar Wetlands Awards have been attributed since 1999 at the international Conferences of Contracting Parties (COPs). Their aim is to give international recognition to individuals, organisations, and governments for their contributions to the conservation and wise use of wetlands throughout the world. This year, for the first time, three Merit Awards have also been given to reward particularly notable achievements.
Wetlands are some of the most biologically diverse ecosystems in the World, and among the most productive for the human communities that greatly depend on them due to the broad range of ecosystem services they provide, such as agriculture, fishing, tourism, water purification, and flood control. Yet they are highly threatened by human pressures. This is particularly true in the Mediterranean Basin, where wetlands are estimated to have lost about 50% of their surface area during the 20th century, with serious repercussions for biodiversity and local populations.
The Ramsar Convention Merit Award was handed to the Tour du Valat's General Director Jean Jalbert on Wednesday 3 June 2015 in recognition of 60 years of research and action for the study, management, and preservation of Mediterranean wetlands. It is also in honour of an extraordinary human adventure led by Luc Hoffmann, who created this unique research centre in the Camargue in 1954. The Tour du Valat has since welcomed generations of researchers from many nationalities, all passionate about wetlands and the biodiversity they host.
The Tour du Valat was one of the initiators of the Ramsar Convention, and then played a decisive role in the creation of the MedWet initiative in 1991. It has also actively contributed to the implementation of the principles of the Ramsar Convention in the Mediterranean Basin. In this 12th COP, it has been very active and involved, working on draft resolutions, taking part in many events at the "Mediterranean Agora", and presenting the results of the Mediterranean Wetlands Observatory.