A unique collective of scientists, farmers, rice growers, ranchers, herders, and citizens from the Pays d'Arles region and beyond has been set up. They are mobilizing to denounce the Arles motorway bypass project and to warn people of the risks of damage to the integrity of the Camargue and the Crau, exceptional biodiversity hotspots and internationally renowned grazing and farming lands.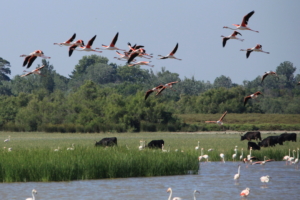 The Tour du Valat is a co-signatory of an opinion piece (in French) that is part of a press kit (in French) created with the other members of the collective that unites:
Arles Camargue Environnement & Nature (ACEN) ; Tour du Valat ; Centre Français du Riz ; Comité Foin de Crau ; Agir pour la Crau ; Chambre d'agriculture des Bouches-du-Rhône ; Syndicat des Riziculteurs de France et filière ; FDSEA13 ; Fédération des Manadiers ; Fédération Départementale Ovine 13 ; Jeunes Agriculteurs ; Association bovine des Bouches-du-Rhône ; Association des éleveurs français de Toros de Combat ; Association des éleveurs de Chevaux de race Camargue ; France nature Environnement 13 ; Nature et Citoyenneté Crau Camargue Alpilles (NACICCA) ; Collectif des Riverains : Quel avenir pour Pont de Crau ? ; IGP Agneau de Sisteron ; AOP Taureau de Camargue ; Livre généalogique de la Raço di Biou ; Marais du Vigueirat ; Antique Confrérie des Gardians de Saint-Georges ; Société Nationale de Protection de la Nature ; Université du Domaine du Possible.
From the very beginning of the project several years ago, the Tour du Valat has taken an active role in the various stages of consultation. Over the last two years, it has contributed to the ongoing dialogue on the "natural environment" of the South Vigueirat route, and has explicitly expressed its major reservations about the quality of this study because of its various weaknesses, gaps, and inconsistencies.
More recently, it has contributed actively to the regulatory consultation phase, which is now coming to an end.
The Tour du Valat has recently sent a letter to the DREAL (Regional Directorate for Environment, Planning and Housing) and local elected representatives with a positioning file on the bypass. Its conclusions are perfectly clear: "contrary to what is stated in the consultation file, the elements we have attest to the fact that this project is incompatible with France's commitments in terms of climate, biodiversity, and soil artificialization."
What to remember about this dossier:
In a European context in which France has been condemned by the European Court of Justice for having failed to comply with the European directive on air quality and for having systematically and persistently exceeded the annual limit value for nitrogen dioxide since 2010, mainly due to road traffic emissions,
In a national context in which:
The transport sector is clearly failing in terms of the National Low Carbon Strategy objectives set in 2015,
The "Avoid, Reduce, Compensate" approach is neglected and poorly implemented in the vast majority of development projects,
The artificialization of natural, agricultural, and forest areas has not been halted and the tools intended to combat it appear to be unsuitable,
In a local context in which:
The rate of soil artificialization is one of the highest ever in France and in which the dynamics of this artificialization is particularly worrying,
The area concerned by this project is one of the richest and most diversified areas in terms of biodiversity, and known at the European level as the Camargue-Crau-Alpilles "golden triangle of biodiversity,"
This area has a major agricultural role to play for livestock breeding and the growing of internationally renowned crops such as Crau hay and Camargue rice,
The Pays d'Arles region's Climate-Air-Energy Plan aims to reduce emissions of local atmospheric pollutants, in particular, fine particles (PM 2.5) by 30%, and nitrogen oxides[CLV1]  by 40%, which are especially emitted by road transport.
This motorway bypass project must be exemplary in terms of meeting France's commitments, particularly with regard to the National Low Carbon Strategy, the implementation of the "Avoid, Reduce, Compensate" approach and its contribution to the "zero net artificialization" objective. Yet, apart from unsubstantiated claims, the consultation file does not provide any convincing evidence that the motorway bypass project will make a positive contribution to these three national strategies. On the contrary, all the evidence available points to the fact that these national strategies are poorly taken into account and that the proposed bypass project is incompatible with their objectives.
To address this situation, the only realistic option that would make a real contribution to these 3 national strategies is to strongly reduce road traffic, in particular the road transport of goods, via a massive and rapid shift to rail, river and sea transport, and not to build this motorway bypass.
Enhancing the well-being of those living along the RN113 motorway and reconnecting the city of Arles with its southern neighborhoods are, however, priorities that can be achieved via methods other than the bypass. For instance, the speed limit can be lowered, and the stretch of RN113 that crosses Arles can be covered, following the example of what has been done to some sections of the Paris ring road.
Moreover, traffic studies show that in spite of the motorway bypass, a very large flow of vehicles will still cross Arles (28,500 light vehicles and 900 heavy goods vehicles per day in 2028). These figures are incompatible with any redevelopment of this axis into an urban boulevard in the aim of improving the living conditions of local inhabitants.
If a motorway bypass must nevertheless be built, the long sub-fluvial variant is the only option that is more or less compatible with the "zero artificialization" and "zero net loss of biodiversity" objectives. However, it would lead to an increase in road traffic as well as a high production of GHGs during construction phase, and would therefore run counter to the National Low Carbon Strategy objectives.