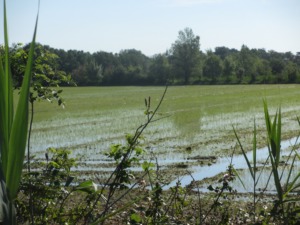 This article has been published in the journal  Peer Community Journal, Section Ecology. The article is part of Pierre Mallet's PhD which she successfully completed in the autumn of 2022.
Vous pouvez le retrouver sur le portail documentaire de la Tour du Valat.
You can access to it on the Tour du Valat web documentary portal.
Abstract:
Breeding birds in agricultural landscapes have declined considerably since the 1950s and the beginning of agricultural intensification in Europe. Given the increasing pressure on agricultural land, it is necessary to identify conservation measures that consume little productive land. We tested the compensation hypothesis which states that field margins may represent substitute habitats for bird species in agricultural wetlands. We monitored bird species in 86 crop fields in rice paddy landscapes of Camargue (southern France), a wetland of international importance for birds. We investigated whether the area of three types of field margins (reed strips, grass strips and hedgerows) within a 500 meter buffer around the centroid of each crop fields had an effect on the abundance of bird species from three groups defined based on their primary habitat (reedbeds, grasslands, and forest edge species). We controlled for the area of each type of semi-natural habitat (wetlands, grasslands, and woodlands), crop diversity (rice, wheat, alfalfa, rape, and market gardening) and mean crop field size. Results show partial support of the compensation hypothesis with species-dependent responses to primary and substitute habitat area. Some species within the reedbed and grassland bird guilds are favored by the area of their primary habitat as well as by the area of field margins, in line with the compensation hypothesis. Eurasian reed warbler is favored by the area of both wetlands and reed strips. Corn bunting is favored by grassland and grass strip areas. We could not confirm the compensation hypothesis for other species. However, this may be due to the fact that most of these species did not respond to their primary habitat. These results therefore suggest that field margins may represent substitute habitats for some species but further studies, in contexts where species are strongly associated with their primary habitat, would be needed to confirm the generality of this hypothesis. Our results also suggest that species response to increasing the area of a field margin type may vary among guilds and even within guilds. Therefore, it may be difficult to favor all species within a given landscape and management actions may need to be tailored to whichever species are locally associated with the highest conservation priority. To tackle this challenge, it may be necessary to design landscape management actions at different spatial scales.