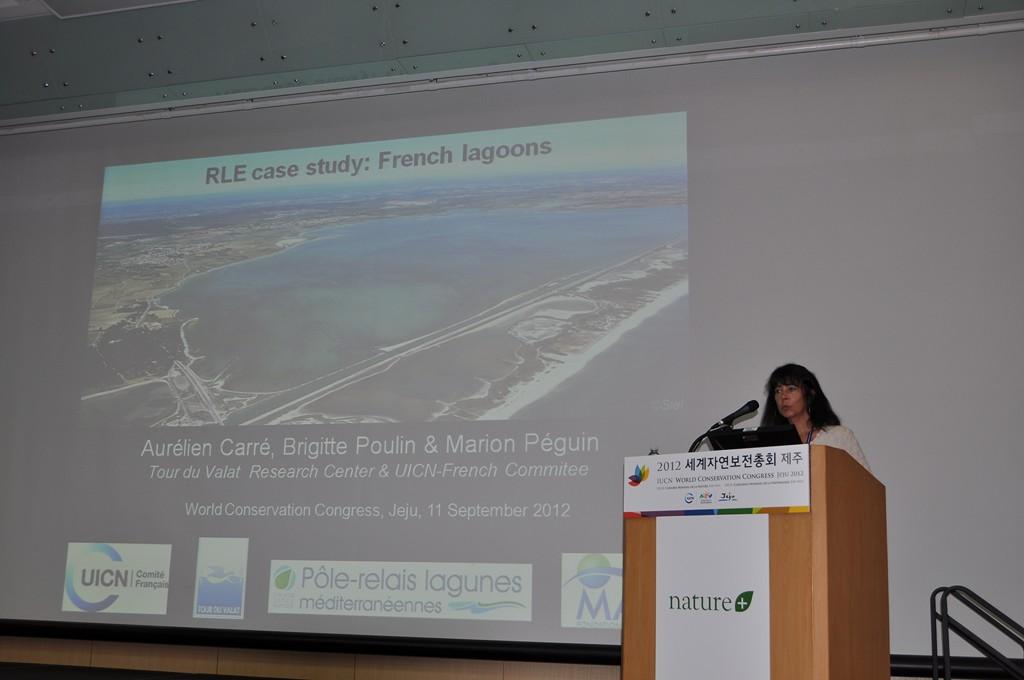 Taking inspiration from the red list of species, in 2008 the International Union for the Conservation of Nature launched the idea of an Ecosystems Red List, which took the form of a resolution at the last IUCN World Nature Congress held in Jeju, Korea in September, 2012.
The case of Mediterranean lagoons presented at the IUCN World Nature Congress
While the interest of such an approach is obvious for conservation purposes, and particularly as a decision-making aid tool for local development, nonetheless ecosystems are far more complex entities than species, and creating a standard method that can be applied at every scale and for all ecosystems is not a simple task. This method was developed through international dialogue, which has taken place at several workshops held in various countries since 2010. One of these workshops, which focused on Mediterranean wetland ecosystems, was held at the Tour du Valat in September 2011. 
5 criteria for assessing the condition of ecosystems
 The IUCN's approach is inspired by the very definition of "ecosystem" proposed by Tansley in 1935, which is made up of four key elements: 1) a community of characteristic species, 2) a physical environment, 3) processes and interactions between the different components, and 4) the spatial area. Likewise, five criteria have been proposed for assessing ecosystem status: 1) limited geographic distribution, 2) decrease in area (past or recent), 3) degradation of the physical environment, 4) changes (disturbances) in the biotic interactions, and 5) the risk of ecosystem collapse, when it can be modelled. The term "collapse" is preferable to extinction, because contrary to species, an ecosystem can lose its functions, but continue to occupy the same space.
Three case studies based on these criteria were presented during a workshop at the last IUCN World Nature Congress; the first of which focused on Mediterranean lagoon ecosystems in France. These ecosystems were listed as vulnerable due to the deterioration of the quality of their water, which was quantified by the Ifremer lagoon monitoring network. They were assessed along with other French wetland ecosystems within the framework of an internship completed by a Master's student in 2012 (download here opposite).
Assess all ecosystems by 2025
In the next steps, the tools for explaining the methodology will be developed and distributed. They should be completely operational and available in the three languages used by the IUCN by 2015, with the long-term objective of evaluating all ecosystems by 2025. The French IUCN committee has been participating in this approach actively, and in early 2013 will create a group of experts within its ecosystems management commission, to promote the implementation of this initiative in its territory, and develop new case studies focusing on forest and marine ecosystems in metropolitan France and its overseas territories. At the same time, the Tour du Valat is planning to work with the IUCN's Mediterranean Regional Office to build capacity and make it easier to apply assessment criteria to Mediterranean wetlands.