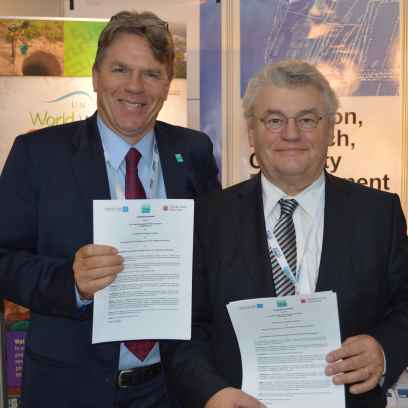 On the occasion of the Water Summit, held in Budapest (Hungary) from 8 to 11 October, a tripartite memorandum of agreement (MOA) was signed by the UNESCO Institute for Water Education (UNESCO-IHE, the Netherlands), Charles Sturt University (Australia) and the Ramsar Convention Secretariat with a view to establishing the Ramsar Chair for Wise Use of Wetlands.
The aim of this Chair is to enhance cooperation between various national and international organisations in order to support the education and capacity building required for wiser use of wetlands. In particular, via close collaboration with the UNESCO-IHE Chair of Aquatic Ecosystems, it will enable the development of initiatives aimed at a better understanding of the functioning of wetland ecosystems, together with the links maintained by the communities that depend on them.
Note that the creation of this Chair is the result of a long collaboration between the Ramsar Convention, UNESCO-IHE and Charles Sturt University.
Contact : Ken Irvine, Professor of Aquatic Ecosystems at UNESCO-IHE