There is still time to register for the first conference on Conservation Sciences in the Mediterranean region. Aimed at young researchers it will take place from 8 to 10 December 2011 at the Tour du Valat (Camargue, France). This is the first of a cycle of conferences organised by the Tour du Valat, in close collaboration with the CEFE-CNRS (Montpellier) and IMEP (Aix-Marseille University).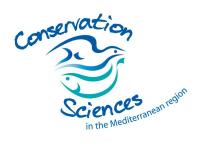 The conference target young scientists involved in conservation science (such as biology, remote sensing, social sciences, etc…) and offers young conservation scientists the opportunity to present their work.
This will also be an opportunity to increase exchanges around the Mediterranean basin, by favouring access of young scientists from the south of the Mediterranean and by grouping the scientific and organisational committees from two of the largest centres for Mediterranean ecology in France, IMEP in Aix-Marseille and CEFE/CNRS in Montpellier.
Besides, this conference aims at scientific excellence by inviting high ranking lecturers, directed by Jacques Blondel as president of the scientific council :
Pedro Jordano, Professor of Research, Estacion Biologica de Donana, Spain. His research focuses on the ecological and evolutionary consequences of mutualistic interactions between animals and plants, with specific focus on how mutualisms have shaped the Web of Life. More information on http://ebd10.ebd.csic.es
​
Marie-Christine Cormier-Salem, Director of Research in geography, IRD/MNHN Paris, France. IRD Director of Research in social sciences and adjoint director of UMR 208 "Local Heritage » (IRD / MNHN, Paris), she is at present based in the International Campus of research UCAD-IRD in Dakar, Senegal, where she coordinates a team on the evaluation of the ecosystemic services and the sharing of benefits from biodiversity. More information on www.paloc.ird.fr
Ana Rodriguez, Reserarche, CEFE-CNRS Montpellier, France. Her research interests lie at the interface between ecology and biological conservation, with the study of spatial biodiversity patterns as the unifying theme. More information on: http://www.cefe.cnrs.fr/dpb/Ana_Rodrigues.htm
Slaheddine Selmi, Professor of Biology, Gabès University, Tunisia. He is teaching Ecology, Biodiversity and Conservation Biology. His research interests are broadly in population and community ecology, with particular emphasis on the relative roles of local-scale versus landscape-scale factors and processes in shaping the dynamics of local populations and communities in patchy habitats. He is also concerned with the interactions between humans and wild animal populations in patchy wetlands in the arid environments, such as oases and salinas, and with the associated conservation issues.
Consult the conference website at http://www.medconservationsciences-conference.org. You have until 1st December to register for the conference. The website also gives details of the programme and scientific committee, together with practical information.
If you have any questions, don't hesitate to contact us: [email protected]