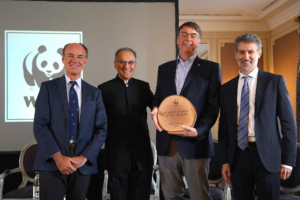 The 2nd of october 2018, André Hoffmann, president of the Tour du Valat's foundation has received the WWF Duke of Edinburgh Conservation Award. The annual award was created in 1970, it honours and recognises valuable contributions made toward the global conservation movement, and this year celebrates innovation in corporate sustainability and charitable giving.
"André's passion and energy to tackle the planet's most pressing environmental challenges is inspiring. Regardless of the hat he is wearing – philanthropist, entrepreneur or board member – he always aims to put sustainability and nature first and that is the kind of commitment we need from our leaders today," said Pavan Sukhdev, President of WWF International. "At a time when biodiversity & ecosystems are under unprecedented pressure, Andre's vision for conservation cuts across sectors and actors to focus squarely on impacts and creating a sustainable future for us all."
"Receiving this award, 20 years after my father, is a great honour. I am grateful to the committee for having selected me as I am not an obvious choice. I am not a scientist active in the field or lab but rather move in boardrooms and philanthropic forums to explore issues and beliefs around nature and humanity. Business cannot continue as before; there is a need for change," said André Hoffmann. "Nature is essential to our survival and there is no future for business in the longer term without recognizing this. In our closed earth system, we simply cannot surpass our planetary limits. We need to focus on a better use of natural and social resources. It will not be possible for businesses to be profitable in the long term without taking environmental and social issues into consideration."
This year's award was presented by The United Kingdom Permanent Representative to the UN and other international organizations in Geneva, Ambassador Julian Braithwaite, on behalf of HRH The Duke of Edinburgh.