Once again the flamingos have chosen to nest at the Salin d'Aigues-Mortes with about 15,000 adult Greater Flamingos and 4,500 chicks.
600 Greater Flamingo chicks were ringed on the 3rd of August 2021 on the Salin d'Aigues-Mortes
Yesterday evening, just before the arrival of bad weather, about a hundred people took part in the ringing of 600 Greater Flamingo chicks, an essential step in the study of flamingos.This operation consists in equiping each chick with a ring unto which is engraved a unique code that can be read from a distance. The chicks, which are gathered in a nursery, are encircled by the volunteers and guided to an enclosure where they are taken to be ringed, weighed and measured. Each chick, after having been handled for only a few minutes is released back into the pond where they can rejoin the rest of the nursery that was not caught. The ringing of the flamingos does not impact their future behavior. Numerous studies have shown that neither the survival nor the reproductive succes are affected by the wearing of the ring.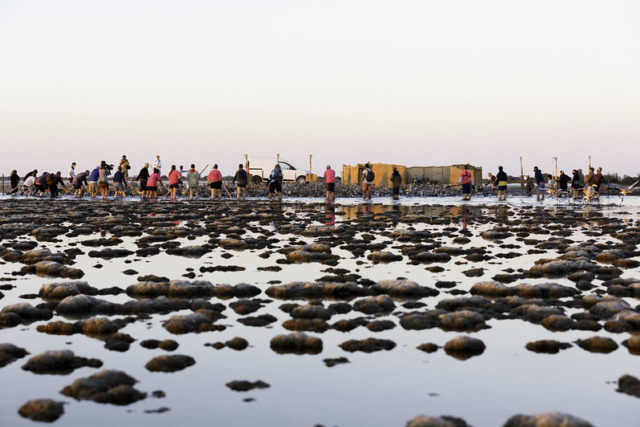 A long term-scientific programme
Ringing is part of a study programme initiated at the creation of the Tour du Valat in 1954, and heavily structured from 1977 onward. Every year since, the Tour du Valat has ringed several hundred flamingo chicks with rings that allow each individual to be identified and monitored.
These observations constitute a unique database in the world (with more than 300,000 data), which also allows conservation measures to be put in place that are adapted to the local context and to the needs of the species. These emblematic birds which depend on shallow brackish and saltwater lagoons remain a vulnerable species as most of the wetlands on which they depend are still under threat.
.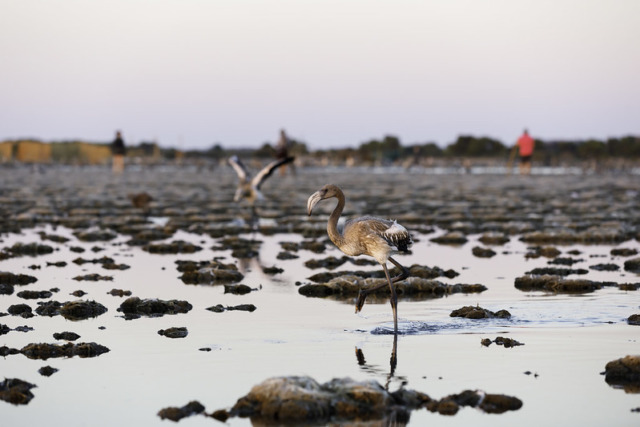 Do you want to help protect this emblematic species? What if you adopted a flamingo?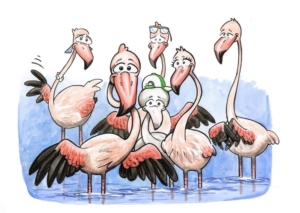 To help the network of observers in the Mediterranean to continue their efforts to safeguard this emblematic species and the wetlands they inhabit it is possible to "adopt a flamingo" on the website monflamant.com. You can choose the flamingo that suits you best. The choice is yours: adopt one of our mascots, find one of the members of our four families, whether it be Aphrodite, the lovey-dovey mother, Marius the Camargue grandfather, Romane the expatriate daughter, Indiana the adventurers father and many more. You can even choose a flamingo based on their age, their gender… and give him or her the name of your choice. There really is something for everyone and every budget!
Come join our 1,800 other sponsors that are helping in their own way to protect these long-beaked birds!