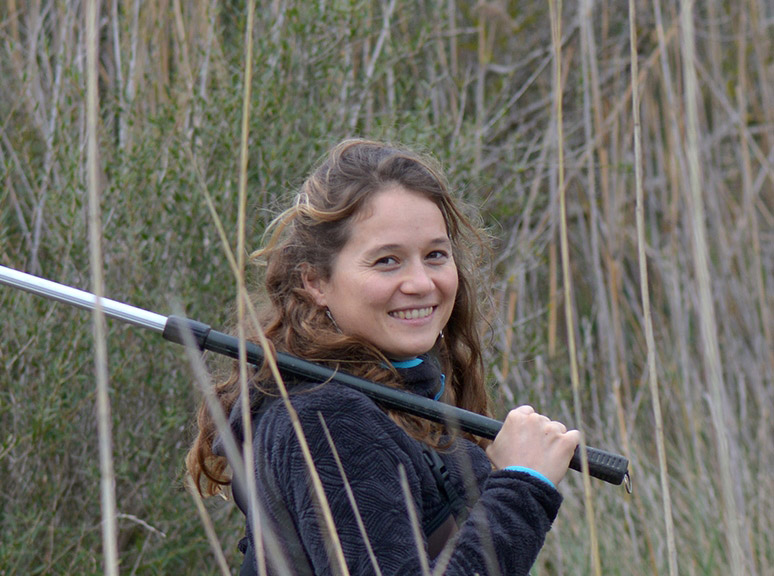 Themes: Species Conservation | Management and restoration of Natural and Agricultural ecosystems
Contact: e-mail | Ph. +33 (0)4 90 97 29 80
Joined our team: December 2015
Profile: Research Gate
Research interests and expertise
My research aims to improve our understanding of:
The spatial and temporal distribution of fish species, based on macro-ecological approaches (long spatial and/or temporal series);
Population dynamics through a long-term capture-mark-recapture monitoring programme.
My work aims to improve the conservation and management of endemic species in the Mediterranean Basin in times of global change.
I am currently focusing on two threatened species in two different study areas: the European Eel in the Camargue and the Marble Trout at the head of the Soča basin in Slovenia. I am particularly interested in the impact of extreme events (floods, droughts, and landslides), as well as in the arrival of introduced species, such as Wels Catfish and Topmouth Gudgeon in the Camargue, and Brown Trout and Rainbow Trout in Slovenia.
Projects
In the Camargue, from freshwater canals to salt marshes:
1993 – present: Long-term monthly monitoring of fish populations and fish cancer in the Fumemorte Canal (see project).
1993 – present: Monitoring of the different phases of the European Eel at La Capelière in the Vaccarès Lagoon.
2001 – present: Capture-mark-recapture monitoring of the European Eel in the Fumemorte Canal (see project).
2016 – 2021: Monitoring of the hydrobiological connectivity in the ponds and marshes on the former Camargue saltworks site. Monitoring of the recruitment of species coming from the sea (glass eel phase for the European Eel, migratory marine fish species such as sole, bass, and bream, and decapod crustaceans such as green crab and grey shrimp). Monitoring of the downstream migration of European Eel (see project).
2019 – present: Telemetric monitoring by radio identification (RFID) set up in the Fumemorte basin to study the longitudinal movements of European Eels in the yellow stage between the Vaccarès Lagoon and the Fumemorte Canal, as well as the dynamics of downstream migration during the silver stage.
– 2020-2021: Meta-analysis of glass eel recruitment throughout the Camargue delta. 
In Slovenia, at the head of the Soča basin:
1993 – present: Marble Trout project conducted in collaboration with the Tolmin fishing association in Slovenia. Monitoring the population dynamics of genetically pure marble trout, and naturalised allopatric or sympatric populations of brown trout and rainbow trout (see project).
Scientific collaborations
2019 – 2020: Development of a fish indicator in lagoons adapted to the French context, INPOLAG Project (Indicateur Poisson Lagune). With Ifremer, UMR MARBEC / University of Montpellier, CEFREM / University of Perpignan.
2019 -2020: Use of the Three-spined stickleback to study the effects of a cocktail of pesticides produced by rice cultivation in the Camargue, under variable salinity conditions: influence of rapid selection mechanisms on the ecotoxicological response. With the UMR MARBEC / University of Montpellier, the UMR SEBIO / INERIS and the Camargue National Nature Reserve.
2018 – 2019: Participation in the ROSETTA project, setting up a monitoring network for the Rosette agent, a pathogen carried by the Stone moroko (Pseudorasbora parva) that can have an impact on other teleost species. With AFB, IRD, FNPF.
Postdoctoral supervision
Bouchard, Colin. 2020-2021. Meta-analysis of glass eel recruitment : Synthesis and analysis of the ecological continuity
throughout the Camargue delta. Postdoctorate. Co-supervision : Olivier Boutron, Hilaire Drouineau, and Patrick Lambert of INRAE Bordeaux
Supervision of students
Mollier, Esther. 2021. Characterisation of the dynamics of downstream migrations of the European Eel in a Camargue drainage canal. End of studies internship (Master 2), Institut National Supérieur des Sciences Agronomiques, de l'Alimentation et de l'Environnement de Dijon (Higher National Institute of Agricultural Science, Food and Environment). Co-supervision : D. Nicolas & C. Bouchard
Giraud, Jules. 2020 Evaluation of the detection efficiency of an RFID telemetry device. 3-month M1 internship as part of a tutored gap year at the SupAgro Institure of Montpellier. Co-supervision : D. Nicolas & C. Bouchard
Dupont, Luna. 2019-2020. Discovering scientific fish monitoring. 3 internships of 3 weeks in Year 12 & 13 of a vocational baccalauréat, Management of Natural Environments and Wildlife, Lycée des Calanques, Marseille
Parent, Maude. 2019. "Assessment of the hydro-biological connectivity between the marine environment and the Vaccarès lagoon complex via the ponds and marshes on the former Camargue saltworks site." End of studies internship (Master 2), Ecole Nationale Supérieure Agronomique de Toulouse (School of Agricultural and Life Sciences)
Marc, François. 2019. Setting up fish monitorings. Internship BTEC Higher National Diploma, Management and Protection of Nature, 1st year, Cours Diderot, Aix-en-Provence
Mutel, Stéphane. 2018. "Temporal variability of the trophic ecology of the Wels Catfish and European Eel in a drainage canal in the Camargue." Master 2 internship, Polytech Tours, Urban and Territorial Planning and Environment, University of Tours. Co-supervision: D. Nicolas & C. Musseau (IGB, Berlin)
Chericoni, Nicolas. 2017. "Comparison of two temporal monitoring campaigns on wild fish in the Vaccarès Lagoon." Master 2 internship, Statistics for Life and Healthcare Sciences
Chevallier, Adrien. 2016. "Transfer of ichthyofauna from the Rhone to the Camargue through irrigation pumping." End of studies internship, Polytech Montpellier
Education
2006-2010: PhD in Estuary Ecology, Irstea Bordeaux / University of Bordeaux 1
2004-2006: MSc in Oceanography with a concentration in Marine Biology and Ecology, Oceanology Centre, University of the Mediterranean, Aix-Marseille University II
2003-2004: BSc Biology of Living Organisms, ERASMUS programme, University of St Andrews
2001-2003: two-year degree in Life Sciences, University of Nice Sophia-Antipolis
Publications
Find below the most recent publications of Delphine Nicolas, or see the full list on the Tour du Valat's documentary web portal: