The wines of the Petit Saint-Jean Estate
Cultivate in harmony with nature
In the heart of the Camargue Gardoise, our agroecological farm combines vineyards, orchards and pastures set in remarkable natural marshes and pine forests.
This sanctuary shelters more than 350 plant species and 170 bird species.
The Petit Saint-Jean Estate is a property of the Tour du Valat Foundation, research institute for the conservation of Mediterranean wetlands. Current and future productions combine quality agricultural production, biodiversity preservation and adaptation to climate change.
You will find below the description of each wine, along with their price and availability. You can download a purchase order at the bottom of the page.
The 2019 harvest produced six vintages. The Grenache gris white wine quickly went out of stock as well as the vintage of red Montilles.
A new Grenache gris from the 2020 harvest has been bottled at the end of the 2020 year and is available for sale.
8 new 2020 vintages are now available, white wines, red, rosé and even some orange wines… as well as some vintages left from 2019.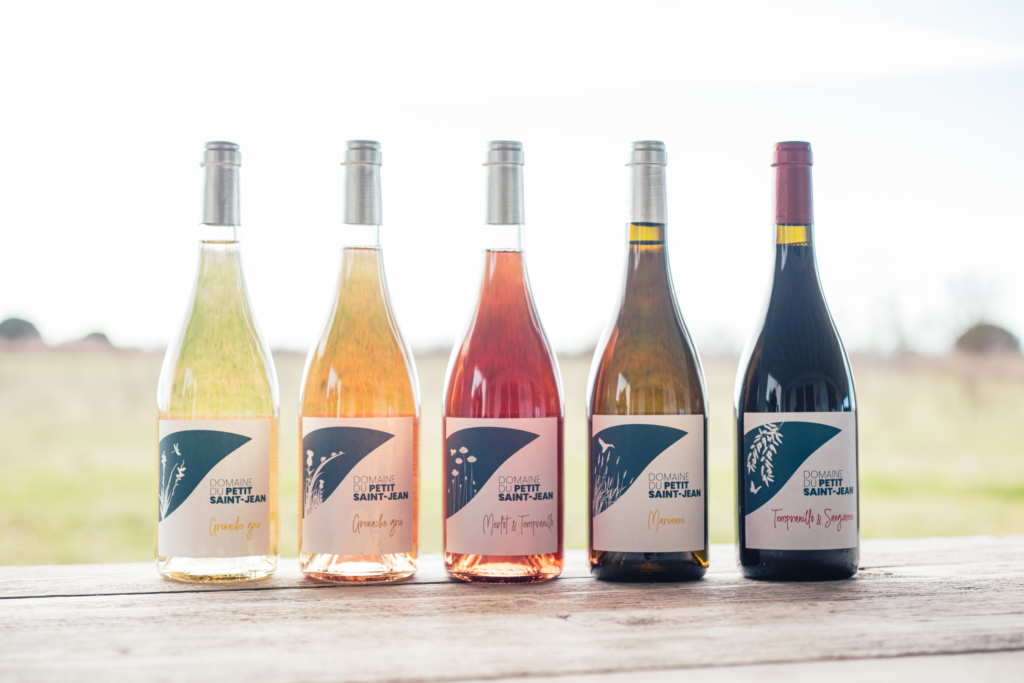 Rosé 

| Merlot & Tempranillo

2019
A rosé full of flavour, a deep pink with colourful notes of poppy, fruity and smooth
Rosé |  Merlot 2020

A supple Merlot rosé with hints of raspberry
White

| Grenache gris

2020
A pure Grenache gris vinified as a white, fresh wine with notes of citrus and a flavourful aftertaste
White

| Marin blanc 2020
A pure Grenache gris vinified as a white, fresh wine and salty like the wind in Camargue, the Marin blanc
White

  | Rousanne & Marsanne 2020

Rousanne and Marsanne aged on lees that express a pretty nose of flowers and apricots with a fresh and mineral taste
White

  | Marsanne 2019

Pure Marsanne aged in barrels to ensure tension and the expression of subtle aromas, all in elegance
Orange

| Le Grillo gris 2020
Original and bold, this orange wine is a white wine vinified as a red wine. The Grillo and the Grenache gris reveal themselves with notes of quince and grapefruit zest
Red

 

| Malbec

2020
With its notes of wild blackberries this Malbec combines freshness and lightness
Red 

| Tempranillo & Sangiovese
2019
The Tempranillo, Iberian jewel, and the Sangiovese, Italian prince, are united here in a wine with an elegant character, combining the aromas of tabaco, cacao and red fruits
Red

  | Cuvée des Montilles 2020
A blend of Malbec, Sangiovese and Marselan for a fruity, supple and rich wine
Red

  | Sangiovese 2020
The Italian prince, this Sangiovese offers both elegance and balance with the taste of cacao and cherry merging together
Contact: Nicolas Beck, manager of the Petit Saint-Jean, e-mail | +33 (0)4 90 97 29 70 – (0)6 79 79 90 35